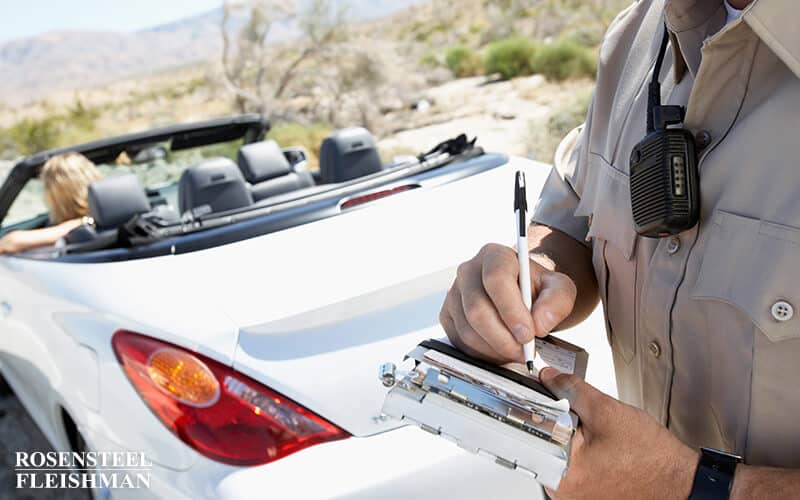 The traffic attorneys of Rosensteel Fleishman, PLLC can assist you in regaining your suspended or revoked NC driving privilege. If you have been cited for Driving While License Revoked (DWLR), or Driving Without a License (DWL) we can help. Many of our clients come to us with multiple traffic violations- some of which are several years old. These clients have allowed the citations and fines to pile up over the years, and now they are in increasing legal trouble and they do not know how to get back on track.
There are a number of reasons why an individual initially loses his license. The most common reason is the failure to appear for a traffic ticket. If you have failed to appear on a speeding ticket or even a non-moving offense, the DMV gives you a grace period and then suspends your license. Since your license is suspended, when you are pulled over in the future you are cited for Driving While License Revoked. Even though the original charge that you failed to appear for was a minor traffic violation, the Driving While License Revoked charge carries a one year license suspension and other penalties. If you fail to handle the Driving While License Revoked ticket properly you can begin a snowball effect where each subsequent traffic stop makes the situation worse. Because this can lead to longer suspensions and even a permanent revocation of your driving privilege it is important to speak with an experienced attorney.
If you are in a situation where your driving privilege is in danger of being revoked, or has been revoked, our traffic attorney can work with you, the court system, and the north carolina DMV to help you regain your driving privilege. Knowledge of the possible legal outcomes and how those outcomes will interact with your personal driving record and your insurance rates is invaluable information when you attempt to clear up a bad driving record.
Whether you have failed to appear at previous court dates, failed to pay fines, driven without a license, or have been caught speeding too many times we will use all of our legal knowledge and experience to get you back on the road. Whether your NC license has been revoked or you are in danger of having it revoked, speak with the attorneys of Rosensteel Fleishman, PLLC.
---
At Rosensteel Fleishman, PLLC we provide exceptional legal representation without prohibitive cost. Our traffic lawyers are well versed in NC traffic law. Although the fee arrangement varies according to the type of case, we pride ourselves on being very clear about the costs at the outset of representation. We know that an informed client is a satisfied client. If you have any questions please contact a Charlotte Speeding Ticket lawyer of Rosensteel Fleishman, PLLC.
Our commitment to client service and efficient, effective legal representation is why Rosensteel Fleishman continues to be the best.