Choosing a Local Traffic Ticket Lawyer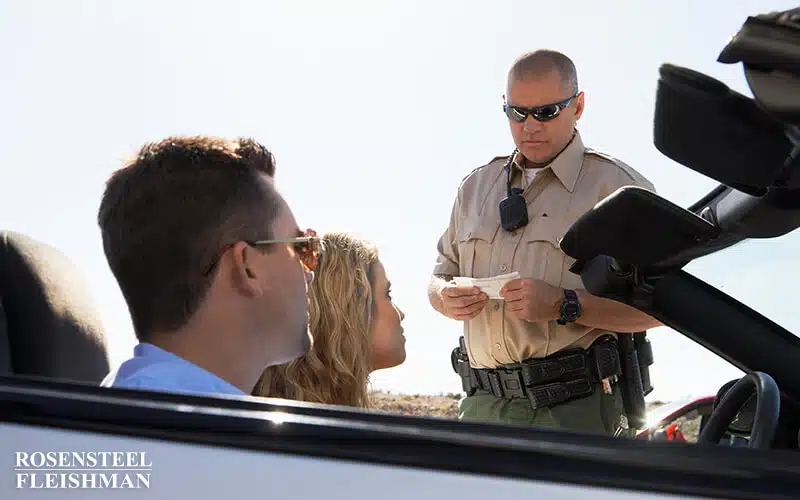 If you have received a speeding ticket in North Carolina or another type of North Carolina traffic violation, you probably have a number of questions regarding the effects on your insurance, license and driving record. Because each ticket is unique, specific questions about your case should be addressed a Charlotte traffic attorney at Rosensteel Fleishman, PLLC. Please contact us with any questions on how we can assist you with your NC traffic ticket.
DWI and DUI | Reckless Driving | Speeding Tickets | Red Light Violation | FAQs
Looking For A Traffic Ticket Lawyer Near You?
Many people contact us because their driver's license has been suspended or revoked. Our lawyers are experienced in handling NC traffic law issues and can help reinstate your driving privilege. For more information on how our traffic lawyers can help you get your driver's license back, view our article NC Driving While License Revoked.
Even if your license has not already been revoked, you should call us to avoid the possibility of a suspension. The North Carolina DMV will revoke a driver's license for a number of reasons, including accumulated points on your license or even just a single traffic violation, depending on the type of violation.
Getting a traffic ticket in Charlotte, Gastonia, Monroe, or Concord can be a stressful experience. No one likes to see those blue lights when they are driving. Our traffic lawyers have handled thousands of speeding tickets, red light violations and DWI DUIs. With North Carolina's population growing there has been an emphasis by the local Police Departments in cracking down on specific violations, specifically DWI DUI and speeding. As such, speed traps and DWI DUI checkpoints have sprung up with regularity across the county.
Typically DWI DUI checkpoints are frequently used during weekends. Many times checkpoints are located near heavy areas of traffic close to bars and restaurants. Our lawyers deal with officers of the CMPD on a daily basis. They frequently park their vehicles outside of bars and wait for people to exit and drive off. The officer will simply follow them and wait for any moving violation as an excuse to pull them over.
Traffic Ticket Practice Areas
Although the effects of an NC traffic ticket on your driver's license can be serious, for many of our clients the more pressing issue is the insurance increase that goes along with a conviction. The attorneys at Rosensteel Fleishman, PLLC, know how the insurance laws work and can help you avoid costly increases in your insurance rates.
Consult a Charlotte Traffic Ticket Lawyer
Our priority at Rosensteel Fleishman, PLLC is to effectively handle your traffic ticket, while being mindful of not only your expense but also the effects on your license, driving record and insurance premium. We will listen to you and guide you through the legal process. We work each case from every angle to put the law to work for you. We will let you know how each judicial result affects you and the best way to proceed. Depending on the violation, we can even handle your case without your presence in court.
Hiring a traffic attorney at Rosensteel Fleishman, PLLC to handle your Charlotte speeding ticket or other Mecklenburg County traffic violation is a simple way to make sure that your traffic violation is taken care of properly. Our experienced traffic lawyers will diligently handle your Charlotte traffic violation while always keeping your insurance rates, driving privilege and expense as our top priorities. We have handled thousands of traffic tickets for various violations, including speeding tickets, red light violations, stop sign violations and reckless driving.
Speeding tickets are the most common type of ticket in Mecklenburg County (Charlotte). Because speeding tickets in North Carolina often require attendance in court and can have serious consequences, the effective handling of each ticket is very important to the person receiving the citation.
There are 100 counties in North Carolina. Even though the counties are all part of the same state, each county has a specific process of dealing with speeding tickets and other traffic violations. Every Mecklenburg County traffic ticket is handled in Charlotte, where the District Court is located. Our traffic attorney is not only located just down the street from the Mecklenburg County Courthouse but also has the legal knowledge and the courtroom experience to take care of your traffic violation.
Our attorneys are experienced in handling traffic violations including:
NC Traffic Tickets
DWI and DUI
Speeding Tickets
Reckless Driving
Stop Sign and Stop Light Violations
Hit and Run Violations
Racing Violations
Driver's License Violations
About Our Charlotte Law Firm
Rosensteel Fleishman, PLLC is a law firm in Charlotte focusing on personal injury, traffic offenses including DWI and DUI, and criminal defense. Attorney Matthew Fleishman represents clients suffering injuries due to car accidents, medical malpractice, and other personal injuries and takes a limited number of cases each year. The firm's traffic attorneys handle violations in Charlotte and the surrounding counties including speeding tickets, red light violations, and others. 
Speeding Tickets
The traffic lawyers of Rosensteel Fleishman, PLLC are well versed in North Carolina traffic law. We understand that it is not just a NC speeding ticket it's also your insurance premium. In some case we can even get our client's traffic violations reduced down to non-moving violations which result in zero insurance points. For many cases we can also receive a waiver, so the client doesn't have to miss any time from work to get the speeding ticket taken care of. Continue Reading
Charlotte DWI and DUI
Our Charlotte DWI lawyer will guide clients through the difficult process of DWI defense. This representation encompasses assistance in acquiring a North Carolina driving privilege, representation in court, and/or representation before a DMV hearing officer. Charlotte DWI attorney Corey Rosensteel will guide you through the multiple appearances you will have in court as well as positioning your case outside of court to get you the best result. Continue Reading
Reckless Driving
Losing a loved one is one of the toughest and most difficult times a person will go through. When that person was taken away due to the negligence of another party it makes the situation even harder to accept. Our Charlotte lawyers take the time to listen to you and your family and learn about the victim, their life, and how it was taken. NC Wrongful Death cases are extremely complex from both a legal and emotional perspective. The last thing you or your family need to worry about during this time is your lawyer. Our Charlotte attorneys will work to protect our clients and ensure the best results for our clients. Continue Reading
Hiring A Traffic Ticket Lawyer
Call or stop by the office to speak with a NC traffic lawyer. There is no obligation and the consultation with the NC traffic lawyer is free. The traffic lawyer will go over your case with you and explain the penalties you are facing and how Rosensteel Fleishman, PLLC can handle your NC traffic ticket. In North Carolina, traffic tickets are handled differently depending on the county it was received in. For example, the way our NC traffic attorney would handle a Concord speeding ticket is quite different from how the same NC traffic attorney would handle a Mecklenburg, Gaston or Monroe speeding ticket. As such, the traffic attorney will need to know among other things the specific NC traffic violations you were charged with, the county you received your NC traffic violation, the circumstances of the ticket, the state you are licensed and insured, your driving record for the past three (3) years, whether anyone in your household has received a NC traffic ticket in the last three (3) years and your court date.
Once you become a client of Rosensteel Fleishman, PLLC your information will be entered in our computer system and your court date will be calendared for handling. Further you will receive a Waiver of Appearance Form. For the speed and convenience of our clients this form is typically sent via email. You will need to sign the waiver and fax or mail it along with a copy of the citation to Rosensteel Fleishman, PLLC. This waiver allows our NC traffic attorney to handle your ticket without you being present in court. The client will then receive a second email confirming receipt of the signed waiver and citation as well as confirmation that the client's court date has been calendared.
Our NC traffic attorney will handle your ticket on the appointed date. Once your NC traffic violation has been disposed of you will receive a phone call, letter and email from Rosensteel Fleishman, PLLC detailing the disposition of your NC traffic ticket.
Understanding the Consequences of a Charlotte Speeding Ticket and the Importance of a Traffic Attorney
Mecklenburg County consistently ranks near the top of speeding tickets written by the state highway patrol, and, unfortunately, being cited in Mecklenburg County for speeding or another type of traffic violation is a relatively common occurrence. There are several reasons for the high volume of traffic tickets in Charlotte. Charlotte is North Carolina's biggest city, and has continued to grow in recent years. Also, several major thoroughfares run through Mecklenburg County including I-77, I-85, and US-74. Furthermore, Charlotte has an international airport, several Fortune 500 headquarters and multiple universities. This all means that Charlotte has lots of drivers, which leads to lots of traffic tickets. Whether you are a North Carolina resident or just passing through, getting a ticket is an unpleasant experience. A speeding ticket affects not only your driving record, but also your finances, your time, and maybe most importantly, your insurance premium.
North Carolina is on a point system, and a Charlotte speeding ticket can result in points on your driver's license. However, points do not just affect your driver's license – they can also affect your insurance premium. If you receive points on your license, your insurance company may increase your insurance premium. Points which accumulate to a certain threshold can also result in the suspension of your driving privilege. In addition to accumulated points resulting in a license suspension, the DMV may also suspend a person's driving privilege based on a single Charlotte speeding ticket for certain violations. That is why it is important to speak with a Charlotte traffic attorney, who will explain the best way to handle your ticket.
Speak to a Charlotte, NC Traffic Ticket Lawyer Today
If you have received a traffic ticket in Charlotte, NC, it is important to speak with a knowledgeable and experienced traffic ticket lawyer to understand your options and protect your rights. The team of traffic ticket attorneys at Rosensteel Fleishman, PLLC have a deep understanding of North Carolina traffic law and can help you navigate the legal process.
Our lawyers are committed to providing exceptional legal representation without prohibitive cost. We provide upfront pricing, so you know the cost of your case before we start. We pride ourselves on being very clear about the costs at the outset of representation and believe that an informed client is a satisfied client.
Call (704) 714-1450 to schedule a consultation with a Charlotte traffic ticket lawyer. Our lawyers are available to speak with you over the phone or in person, and we will work with you to schedule an appointment that meets your needs. Whether you are a North Carolina resident or just passing through, we can help.
Don't let a traffic ticket affect your driving record, finances, time, and insurance premium. Contact the traffic ticket lawyers at Rosensteel Fleishman, PLLC today.